April 23, 2015 · Written by Andrew S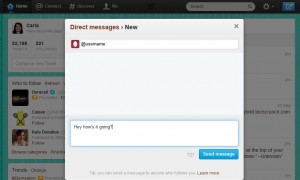 Though Twitter is not primarily known for its messaging services, there has always been the ability to Direct Message your friends via Twitter, essentially allowing you to send something in private rather than adding it to Twitter's usual public forum. In order to do this, however, you had to be following that person and they had to be following you. Presumably, this was to reduce the potential SPAM that could come along with fake accounts and advertisers who might try to send out mass Direct Messages to users willy-nilly. As of this week, Twitter is no longer requiring users to be connected in this way to send Direct Messages to one another.
The new feature is something that users can choose to opt into, in order to prevent Twitter users from opening themselves up to potential SPAM. This setting was actually rolled out to a handful of users back in 2013, but it's only become available as a widespread feature as of this week. This update is likely in an effort to compete with the messaging features of other apps and social networks, such as Snapchat and WhatsApp. Twitter believes that improvements to private messaging will create a social network experience that is more whole.
However, this update has not come without its criticism. Initial criticism came from an apparent mistake that made the feature opt-out instead of opt-in, although this was quickly fixed. Additionally, some believe that Direct Messages defeat the purpose of Twitter, considering the appeal of Twitter focuses on the fact that everything is part of a large, public conversation. Other criticisms believe that opening up one's Direct Messages will make it easier for people to wind up subject to abuse and harassment, a problem that Twitter has already been dealing with in spades.
Tags: Social Bookmarking,Social Media,Social Media News Brief,Social Networking,Web 2.0