In Social Bookmarking, Social Media, Social Networking, Web 2.0 | No comment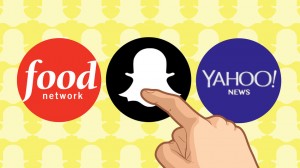 Like any social network, Snapchat is always trying to find new ways to expand and evolve. Recently, they added the ability for different brands to get content to interested users through Snapchat Discover. However, there have been other ways that Snapchat has been trying to appeal to their users, albeit with mixed results. Snapchat launched an ephemeral scripted web series through Snapchat Discover called Literally Can't Even, which is interesting in that episodes can only be watched for 24 hours before disappearing, but has premiered to largely negative reviews.
Better responses have been received from a different feature that was recently added to Snapchat. Last month, Snapchat began allowing users to record video while playing music from their phones, whether they're using Spotify, Pandora, or the phone's built-in MP3 player. Previously, Snapchat did not allow users to play music from apps like these at the same time as shooting video, so this may give users some additional versatility regarding the videos they share on Snapchat.
Not everything that Snapchat has been doing has been about adding new features. In fact, there were some negative reactions when Snapchat added the Snapchat Discover feature, because it came alongside the removal of the 'Best Friends' feature. This was a fairly minor feature that allowed users to view the top three users that one of their friends exchanged Snapchat messages with.
Many people, likely accustomed to the somewhat voyeuristic aspects of social networking, were displeased that this feature had been removed, considering it allowed users to see who their friends were messaging the most, on an otherwise private social media app. The CEO of Snapchat responded that the Best Friends feature will be returning in a different form, though there have been no updates about the feature since then.