By Kyle Aevermann In Social Media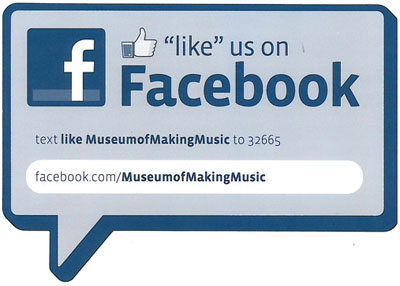 Whether it's your favorite cupcake shop, the car dealership down the street or the place where you get your coffee every morning, it appears that neighborhood businesses nationwide have jumped onto the social-media bandwagon. Facebook, in particular, has become one of the most essential tools in business advertising and marketing; and now, the social network is moving from the web to storefront windows.
Tim Kendall, Facebook's director of product marketing, sent a letter to the Museum of Making Music in Carlsbad, Calif. this week, which also included a Facebook decal, to say:
"We invite you to place it prominently on your window or sales counter, since businesses that promote their Page off-Facebook tend to see a 20 percent or greater increase in connections."
The Facebook promotional sticker is similar to Google's "Favorite Place" decal, which has been displayed on storefront windows throughout the country since December 2009. A Facebook decal promotes a business' Facebook page, whereas, a Google decal features a special Quick Response code that allows those passing by to scan it with their SmartPhones to gain instant reviews of that particular business. Google's decals have reportedly brought new customers to a number of businesses across the country, increasing sales – particularly for small businesses.
Kendall added that the museum is guaranteed to see an increase in visits, both at the museum and on their Facebook page. He also offered the museum a $25 coupon code to use on Facebook ads to potentially attract more customers.
As of now, Facebook is only sending out the stickers to a select few businesses near its Palo Alto, Calif. headquarters. Depending on how the beta trial goes, we could soon see Facebook stickers in neighborhoods across the globe