By Kyle Aevermann In Social Media, Social Networking, Studies & Stats
As I predicted earlier this month, everyone is pumping out data from the what happened this year.  Last week, I shared with you some of Twitter's most tweeted words.  Now this week, Facebook has decided to share some of the most talked about topics through status updates. 
"Status updates on Facebook help people understand their friends and the people around them–how they're feeling, what they're doing and what they're thinking," says Facebook's Lars Backstrom in a Facebook statement. "In the United States alone, people on Facebook are sharing hundreds of millions of words every day, thousands per second, in status updates. When taken as a whole, these words offer a unique barometer into the issues, world events and thoughts that are connecting people."
Below you'll find the 15 most popular Facebook status topics.  It shouldn't be much a surprise if you are a frequent Facebook user that Facebook Applications took the top stop, since much of our news feeds are full of telling us that someone found a sheep on Farmville, which was the most popular mentioned app, to what your friends score is on Mafia Wars.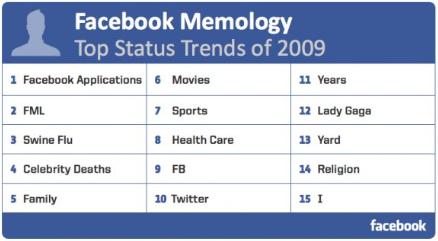 The popular site FML, which posts people's mishaps to make you feel better about your own life, inspired people to create their own FML situations and use them as their status updates when the site really took off in May.
Of course news headlines made it into the group as well.  The fear of everyone catching the Swine Flu caused an overnight panic of Facebook users in the late spring, while the deaths of Michael Jackson and Billy Mays surprised everyone as well.
"No celebrity death had as immediate of an impact on status updates as Michael Jackson's," Backstrom explained. "Mentions of his name were 10,000 times higher on June 25, the day he died, than the previous day, and no other unexpected news event can compare to the burst we saw on that day. Despite the huge impact of this story, mentions of his name lasted only about a week, with a resurgence during his memorial 12 days later."
With thousands of people joining Facebook every day, the demographics of Facebook users is widening, and talk of family is on the rise.  'Mom' was the most common mentioned family name on the social networking site. 
Twilight New Moon, just beat out Harry Potter in the most talked about movie of the year.  And more people were rooting for the Steelers to win the Superbowl this year in February than wanting the Yankee's to win the World Series in October.
Having elected Obama into office, important issues such as heath care became a trending topic.  As Congress worked on approving a version of the bill to pass, many users posted, "No one should die because they cannot afford health care, and no one should go broke because they get sick. If you agree, please post this as your status for the rest of the day," as their status.  This lead to a major spike bringing health care to number 8 on the list.
It is a bit funny to find that Facebook it self made it onto the top 10 list along with Twitter.  Twitter really grew this year and users were granted several features and options to have their Twitter status become their Facebook status.
For more details on how Facebook concluded the list and for reasonings behind the remaining topics be sure to read some of the data from Facebook's data center.