In Social Media, Social Media News Brief, Social Networking, Web 2.0 | No comment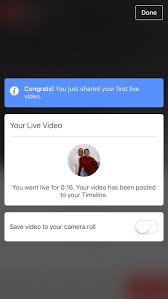 Facebook started the year off by adding live streaming videos as part of their application on the iPhone. This application allows users to stream what they are currently doing so that all of their Facebook friends can see it. It is similar to other applications for cell phones such as Meerkat and Pariscope, but with the advantage of actually being built into Facebook. They plan to eventually extend the video streaming portion of the application to Android users as well.
Facebook's live streaming feature has some benefits over the previous video streaming applications just because it is built into Facebook. This automatically targets the audience for your live stream by limiting it to the privacy settings that you already have through Facebook. Unlike Twitter's Pariscope app, there is no need for Facebook users to download any application in addition to their Facebook app to stream live videos. The really convenient feature is that these videos can be saved and put on the Facebook timeline when finished so that people can see the video later.
The live streaming feature takes Facebook to a whole new level since users are not only able to interact socially by sharing videos and posts, but by showing live events as well. This will allow people to live stream a baby's first steps or a proposal happening in the moment. Business owners can even use these live videos to promote their businesses and interact with their network. Those who miss the live broadcast are able to find it later when they log on to Facebook. People can access it like a normal video, watching it more than once if they choose.
During the live stream, the person who streams the video will be able to see how many people are viewing the video and will be able to see comments as they are made. You can stream for just a short burst or a longer period of time through your phone. You can either use the rear facing or front facing camera to record making it easy to show anything that is going on. Friends on Facebook can interact while you film so you can answer questions live during the stream as well.
In case there was any doubt that Facebook's new video streaming is a hit, it is clear that this has been successful purely because of rising stock prices and viral news about some of the videos that have been streamed live. Facebook has managed to create a video streaming application that competes with those from other sites because of its definite benefits over them. Although it took a while for this feature to become available, Facebook users can now discover this new way of communicating with each other.