By Andrew S In Social Bookmarking, Social Media, Social Media News Brief, Social Networking, Web 2.0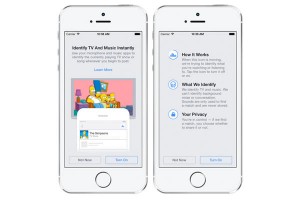 Not long ago, Facebook added a feature that allowed users to mark what they were 'listening to' or 'watching' that would automatically include links to things like Spotify and feature a neat little icon (such as a pair of headphones or a television) to better show off what users were doing. Though it was a cool little addition, there wasn't a whole lot to it. A recent announcement by Facebook made on Wednesday has stated that this is about to change.
Facebook has announced that they will be implementing a feature that uses audio recognition, similar to the popular Shazam application. This function — which users can choose to use or not — will be able to use their phone's microphone to automatically use audio recognition to determine whatever music you are listening to or whatever TV show or movie you are watching, and instantly update your Facebook with this information. If the feature is turned on, an icon will be shown on the phone's screen as a status update is being written. This means the new, unnamed feature is listening and determining what song, TV show, or movie is being listened to.
The audio recognition will be able to allow users to share a 30 second clip of whatever song they are listening to; if it is a TV show, Facebook will automatically be able to pick up what season and episode is being watched, which can be used for further discussion with one's Facebook friends. While Shazam is usually used to determine the name of a song you're listening to, perhaps so you can share it with your friends, Facebook seems to be attempting to cut out the middleman, which could be quite detrimental to Shazam and other audio recognition software. Of course, Facebook will also likely be using this information to better gear advertisements to their user base.