By Nyasha Jernigan In Social Media, Social Media News Brief, Social Networking, Web 2.0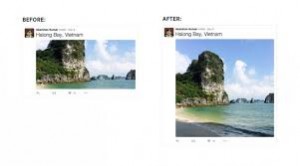 The newest change to Twitter is its end to the photo cropping that ensured that all images were limited to a certain size on its timeline. Though Twitter began as a text only social media site, the site has since added the ability to post photos and even videos. Up until recently these were kept from dominating a timeline by being cropped to size, but now Twitter is allowing pictures to be viewed in full without a user having to click on the image to see the whole picture.
This new feature is sure to be a relief to all of the people who have previously been frustrated with the way that photos appeared. It is far simpler for users to scroll down their timeline without having to click on tweets in order to see the pictures in their full versions. Eliminating the cropping allows users to display photos as they are meant to see while allowing followers to easily look at pictures on the page. The new feature also changes the way that multiple pictures are displayed together to allow users to better show a collage of photos to their followers.
There is likely to be some level of frustration with the new photos among those more interested in the text part of the site since these are now overshadowing tweets without media attached to them. The photos take up a great deal of space in the timeline and are much more likely to gain focus from those scrolling through the page. Many people who joined the original version of Twitter might not be too happy about further changes to the focus of the site.
Twitter claims that it decided to make the change to bring the website up to date with the experience of modern media. It accepts that images are an important part of how people interact on social media and wants to add value to the way that photos are displayed within the website. Changes like this one bring Twitter into a better space to compete with other social media organizations such as Facebook and Instagram.