By Andrew S In Search News, Social Bookmarking, Social Media, Social Media News Brief, Social Networking, Web 2.0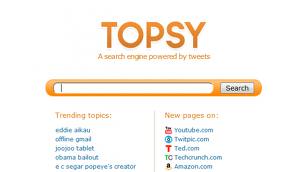 Twitter has long had a search function that allows users to search for certain words or topics that they might want to find tweets about. However, the search function has always been limited to a point, for the sake of reducing data usage and providing more up-to-date information to its users. Essentially, the search function on Twitter tends to show more recent tweets in the assumption that more recent tweets are more likely to be relevant to whatever the user might be searching for. However, Twitter has allowed a small number of data partners to have full access to the entire archive of Twitter data and one of these partners is Topsy.
Topsy's goal is essentially to act as a Google service for Twitter's entire archive. Recently, Topsy announced that they had indexed every single Twitter message since the very first tweet was posted in 2006, which ultimately contains about 425 billion pieces of content. Until this past week, Topsy's archive only went back to 2010, but their recent update has included the years prior to this and the company has made the database free to the public. Before Topsy, the only ways to find this sort of information was through partners like Gnip and the Library of Congress, and it wasn't presented in an easy-to-search manner nor was it free to access.
There are many ways that Topsy can be used beneficially, as it is very interesting to be able to look at trends regarding events, products, or people. Essentially, through the way that Topsy organizes its content based on relevance (using an algorithm that takes retweets and favorites into account), it is easy to see what Twitter users thought of a certain political figure or a news story at a certain time, as well as how those users' attitudes have evolved over time.
Similarly, Topsy can be used for advertisers and others in the business world who want to see how Twitter users feel about a certain product or how their brand is being presented in social media. There are countless other ways that Topsy can be used as a resource to journalists, politicians, and simply those with a bit of curiosity. In the future, Topsy hopes to index public pages for other social networks such as Facebook and Google Plus.