By Andrew S In Social Bookmarking, Social Media, Social Media News Brief, Social Networking, Web 2.0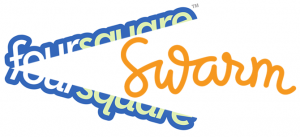 Though Foursquare has not lately been at the forefront of the social media world — especially with other social networks like Facebook incorporating check-in features that have made Foursquare somewhat obsolete — they have recently made an effort to gain a resurgence in popularity by splitting their mobile application in two. What was once Foursquare will soon be two separate apps: Foursquare and the newly launched Swarm.
While Foursquare's focus has long been on checking in to specific locations, Swarm will be more focused on providing a general idea of where your friends are. Rather than having to check in to certain locations (although this feature is still available for those who wish to use it), Swarm will instead passively take note of the general area or neighborhood that you are currently in. You'll be able to see what other Swarm users are around you at all times.
Foursquare itself will be undergoing a large number of changes as well. Early reports are claiming that Foursquare's well-known check-in feature will be removed entirely and the mobile app will be transformed into something that resembles Yelp more than anything else. The new Foursquare will be used to search for places and recommend places (such as restaurants, bars, and other venues) based on the places you have already been, what you have rated highly, and what your friends have rated highly.
Since this is the fast-paced world of social networks, it's no surprise that Foursquare has already managed to step on a few toes. A preexisting start-up known as Swarmly, which also works with sharing location, has mentioned that they think it's a little too coincidental that Foursquare has launched Swarm under that name, considering the Swarmly CEO claims that Foursquare is already quite aware of their app. Regardless of this potential naming conflict, the main issue will be whether users are interested in using the newly updated Foursquare and its companion app Swarm at all.