By Kris Themstrup In Testimonials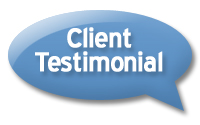 Just wanted to say thank you iePlexus for the excellent training videos.  I just found out about them and have watched two tonight and feel more confident in what I am to do.  My only regret – I was not informed about these when I first began with your company!  Keep up the good work.  Looking forward to making some money!
Annette
Hello iePlexus,
As I was sitting here at my computer, I recalled it was a week ago you took the time to enlighten me on the most effective plan for optimizing my website. I just wanted to say THANK YOU for helping me move my website into the right direction. So far, everything is going as expected as it relates to the follow-up from the "Tech Crew". I am very excited about the Blog idea!
Thanks again,
Shasme' Jones
Hi iePlexus,
Things are happening! Also got another sale and a couple of inquiries wanting to link to my site. Thanks for your help.
Jill Moyer
iePlexus,
You certainly do have my permission to publish the press release. In the email that I lost, I complimented your skills and expertise in taking lame words and polishing them to make them more reader friendly.  You did a fantastic job!
Regards,
Norma
*NOTE: Please do not contact any clients without prior written authorization from iePlexus. Thank you.