By Kyle Aevermann In Viral Marketing, Web 2.0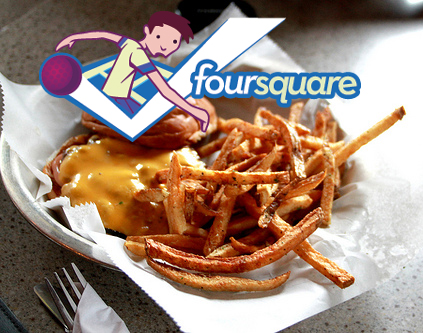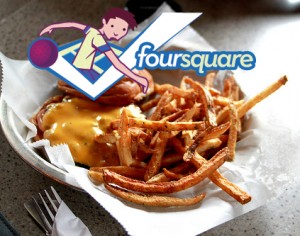 AJ Bombers, is a popular burger place in Milwaukee owned by Joe Sorge.  On Sunday, Sorge's sales were up 110% thanks to the new social media  application FourSquare.  161 FourSquare users checked into the restaurant at the same time, that's between 25-35% of Milwakkee's FourSquare user population.
So what brought 161 FourSquare users to this already popular burger joint?  Sorge decided to promote the restaurant with the idea that customers could unlock a Swarm badge, which is awarded to those who check in at a location with at least 50 other users at the same time. 
Sorge was also trying to raise money for the Milwaukee Social Media Community, which plans on hosting an event at South by Southwest SXSW this coming weekend.  He was able to raise over $500 for the team. 
In an online interivew, Sorge explains it was a last minute plan which he promoted via the restaurants Twitter & Facebook pages.  Photo's from the events are also posted on Flickr.
You may be curious as to why a badge or checking in is a big deal for a company.  But being able to more than double you daily quota, and obtaining new customers should be reason enough.  This is what HubSpot had to say.
This case study is a great example of business owners harnessing the power of social media sites and applications to attract customers.  It's also testament to the growing power of location-based mobile applications.  Joe paid attention to his customers to learn more about them, discovered their growing interest in Foursquare, then did his research about how he could take advantage of the new trend.  The result was a carefully and successfully implemented promotion that afforded him new customers and additional buzz (and — you guessed it — the opportunity to create more content). 

The lesson here is simple: Using social media for business works.  Stay on top of and understand the latest trends, and most importantly — be creative!  Think about innovative ways you can use these applications to generate traffic to your website and/or your physical store.