By Andrew S In Social Bookmarking, Social Media, Social Media News Brief, Social Networking, Viral Marketing, Web 2.0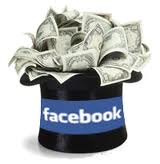 Facebook's primary source for revenue has generally come from the enormous amounts of ad sales that they have made to countless companies that are looking for the incredible amount of exposure made possible through Facebook's reported 1.11 billion active users. Though Facebook has certainly never been hurting for money and the majority of their services remain free, they have released a number of paid services over the past few months in order to generate additional revenue.
One of the earliest features that Facebook began to push out is the ability for users to 'promote' their Facebook posts. Essentially, promoting a post means that will increase the likelihood that one's audience (people who like your Page) or Facebook friends will see a post by moving it up higher in their News Feed. The cost is based on one's geographic location and how many people the post would be reaching. More recently, Facebook also added the ability to promote any of your friends' posts, even without their permission, though these posts can only be viewed by anyone that your friend shared said post with in the first place.
Another new feature that Facebook is beginning to push through is an update to the social network's messaging system. In the system's current state, messages received from people that someone is not Facebook friends with will be filtered rather aggressively into an 'Other' folder that is often looked over. Facebook wants to offer the ability to pay to circumvent this filter. In other words, Facebook users will be able to pay a small fee – supposedly somewhere between $1 and $15 – to get messages more easily to people they aren't Facebook friends with. In order to prevent abuse of this service, Facebook has said they will only be extending this service to people – rather than businesses – and users will only be able to receive one paid message in their inbox per week.red said post with in the first place.
Another much more bizarre feature that Facebook recently added was a similar messaging ability, albeit a much more expensive and specific version of that ability. Essentially, it works in the same way as the aforementioned messaging feature: Facebook users can pay a fee to get a message sent to someone and ensure that it won't go into the 'Other' folder, only in this case, that someone is Facebook founder and CEO Mark Zuckerberg. The price to get a message directly to Mark Zuckerberg is a cool $100, which has been mentioned as Facebook as an 'extreme price point' that is being used to see what works to filter spam.