By Kris Themstrup In Blogging News, Web 2.0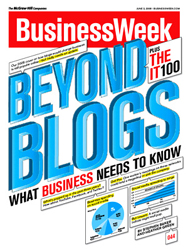 In 2005, Business Week premiered one of the defining articles for business owners and their place online. "Blogs Will Change Your Business" was the title, and the article made many waves in the industry as one of the first from mainstream media to truly acknowledge the power and impact of blogging on business. Since then, thousands of articles in thousands of publications have showcased how the evolution of media and the web has made a fundamental impact on how we do business, not just online, but in virtually every corner of our culture.
The original article had a realistic and objective view of how a business could benefit from a blog. From creating an online identity and building credibility, to market testing and customer interaction, business blogs served more purposes than could be covered in one article. Business Week also stressed the importance of clearing away the clutter – although the numbers for this kind of media were staggering, not everything was worth reading. It was vital to have something to say, to entice and captivate readers while at the same time encourage interaction and feedback. Along with this realistic approach, the article highlighted industry mavericks and major corporations who had jumped on the blogging wagon and what kind of response they'd received. Certainly the movement behind this new tool of communication was broad, but where would it go?
Fast-forward three years later, and the landscape has changed significantly. Business blogs are no longer a tool of the cutting edge business owner or marketing department, they are now a prerequisite for success. Social Media takes off in the form of social bookmarking sites like del.icio.us and Digg, social networking giants like MySpace and Facebook command millions in marketing power, and wikis and micro-blogging phenomenons like Twitter re-shape how we communicate in and outside of the workplace. It's a wild new world, and Business Week looks to update their original article to encompass this new business model. Although a little outdated, the original article ranked very well under popular keywords in search engines, had been linked to many times, and even was part of the core teaching curriculum in college business classes. To ensure they were up to date, business week enlisted the help of the blogging community to help re-write the original article and bring it current. The new article, "How Social Media Will Change Your Business," is basically a new version of the original article. It succeeds in addressing the new power of Social Media that dominates today's online culture, and reports some interesting statistics:
In 2005,

Technorati

(a blog search engine) followed 9 million blogs. Today, the number is 112 million and growing.

These days, 24.8% of adults read a blog at least once a month.

Currently, there are 120,000 new blogs created every day.

Of 150 of the world's top bloggers, the top 10% earn on average $50,000 per month from their blogs.
Business blogs and social media have become the mainstream, and there isn't the kind of bubble around blogging that could burst. Evidence of the acceptance of blogs go all the way to the top of Corporate America, where people like Bob Lutz, the vice-chairman of General Motors has a blog, appropriately named Fastlane. Where will the next wave of online culture lead us? Web 3.0 is just beginning to gain steam as the new model is once again re-written, but it's just another level. Business blogs, social media and the changes that go along with these marketing fundamentals will be constants for a long time to come and continue to build the foundation for how we'll do business in the future.