By Jason Thurston In E-commerce Basics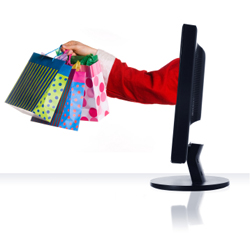 As we count down the days before Thanksgiving and Christmas, many people are thinking about finishing their holiday shopping, and online business owners are scrambling for customers. With the current, shaky state of the economy, it's no wonder that small businesses are focused on the holiday buying season.
Small business owners should be planning their holiday marketing campaigns in advance, as it's not uncommon for holiday promotions to start as early as November 1. But business owners, just like shoppers, have hectic schedules, and often get a late start.
However, it's never too late to start advertising for the holiday shopping extravaganza. If you're running a business online here are some tips to help you prepare for this gift-giving season.

What You Can Do In Advance:
Spend some time brainstorming. Record all the ideas you have pertaining to the holiday season. Sit down with your employees to discuss creative ways to get customers' attention.
Plan to send out coupons and advertise discounts starting on November 1. Since this is the time that most shoppers start planning their gift-buying strategies they will be paying more attention to advertising promotions.
Bump up your advertising budget for the months of November, December and January. Dedicating more of your budget to promotions during this time will garner you more business and buyers.
What You Can Do Now:
Create SEM campaigns for the holiday season. Don't spend your time sorting through your current campaigns for places to add keywords, or holiday-themed content. Instead, create a holiday-specific campaign that you can access year after year.
Expand your keyword list. Without effective keywords your SEM campaign doesn't have much of a chance. Adding in some relevant keywords now can help trigger your ads. If you think you've already used every possible keyword – you're wrong. There are specific programs that are designed to help expand your keyword list.
Always use the negative keyword 'free.' 'Free' is one of the most commonly used negative keywords. This year, more than ever, shoppers are looking for deals, promotions, and 'free' items. When they spot the word 'free' in results of their search they're more likely to cruise your site, and buy your products.
What Not To Do:
Don't make shoppers register before they buy. No one wants to give their personal information before they view the product or the prices. Less clicking creates more buying. Shoppers should be able to click just once or twice in order to get to the "Add to Cart." Requiring shoppers to register may get you an email address, but it's not likely to get you a sale.
Don't end your marketing on the "Thank You" page. Just because someone paid for one item doesn't mean they're done shopping. Use the "Thank You" page as an additional marketing platform to offer last minute deals and specials. Major retailing websites will add links to products that other consumers bought in addition to the product in question.
DON'T GIVE UP! People may not be buying now, but they will be sometime before Christmas. According to a Comscore survey, last year $430 million was spent on Black Friday, $610 million was spent on Cyber Monday, and $660 million was spent on Green Monday.