By Kyle Aevermann In Blogging News, Social Media, Social Networking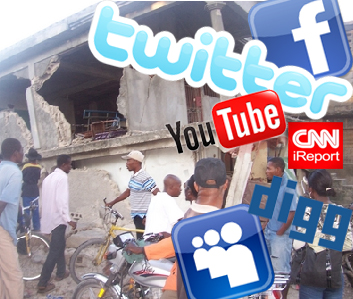 When there seems to be some type of major catastrophe anywhere in the world, it seems like everything else just stops and everyone wants to help.  Yesterday's 7.0 magnitude earthquake in Haiti is just the latest example.
And many people are finding that social media sites are the best way to get involved.  With the use of social media, the citizens of Haiti can tell the story, if they are actually able to get an internet connection.  Many have however.  Jonathan A. Lusma, a victim of the Haiti earthquake, posted the picture to the left on CNN's citizen journalism site, iReport.  Katie Hawkins-Gaar, a CNN iReport producer, talked to Lusma and said that he, "shot these photos on the morning of January 13, the day after the earthquake struck. Because of the multiple aftershocks, he said many people spent the night outside of their homes."  Lusma's photo's are just one of many that are being used in CNN's continuing coverage of the Haiti earthquake. 
Photo's are also being posted on Twitter.  However, it's hard to tell who is to credit for many of the pictures, because people re-post the pictures, but regardless it's a tragedy to see.  One of the most popular retweeted photo's shows the grand Presidential Palace, before and after the quake.  Both the second and third stories collapsed.  Luckily the President of Haiti was not hurt.  Other pictures show schools, churches, and entire villages just collapsed. 
Facebook members are coming together forming many groups, including 'EARTHQUAKE HAITI' where members are posting picture of loved ones who are missing.  And although, I haven't seen many pictures of damage, looking at people who are missing is heartbreaking.  YouTube videos are also starting to roll in from users showing damage and people in a panic searching for other under the ruble. 
Several major organizations however, are using these same sites for people across the world to come together to help the victims.  The Red Cross announced via Twitter, they would like to raise $1,000,000.  They asked users to text "HAITI" to 90999 and $10 will go to the victims.  World Vision is also trying to raise money though Facebook.  News stations, including WCVB have even been using their YouTube channels to show people how they can help those in Haiti.