By Kyle Aevermann In Industry News, Opinion, Social Media, Social Networking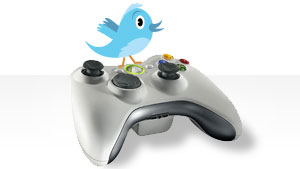 It seems like only yesterday, that everyone in the neighborhood had a brand new gaming console called Nintendo.  Playing a 2-D version of Mario was the most high tech game at the time, and a few years later, the release of the Super Nintendo blew America away.  It was the Nintendo 64, where everyone first began to grasp the idea of 3D graphics in games and since then, the PlayStation, Xbox & Wii have become some of our favorite gaming systems.  From being able to only play games, to being able to actually work out daily, video game systems have come a long way.  So what will come next?
Luckily we won't have to wait long.  Next Tuseday, November 12, 2009, Microsoft plans to release the latest version of the Xbox360.  The new software will be a step up from the current version, heading to the internet integrating the world of social media.  In June, the company announced they'd release the console which would include Facebook, Twitter, last.fm, and Zune video. 
"We're delivering some truly exciting social entertainment experiences to our members," said Marc Whitten, Xbox LIVE general manager. "Xbox LIVE's differentiator has always been our community, and we've already seen a tremendous response to these features in our public preview. It's the community that drives us forward and allows us to pioneer new ways of connecting people through the entertainment they love."
In the Facebook integration portion, users will be able to update status' about what movies, games, or sorts of entertainment they are currently enjoying, while connecting their their friends.  In return, users will be able to see their friends updates and photos. One of the coolest Facebook/Xbox features is that users will be able to compare their Xbox LIVE and Facebook friends lists to see which of their friends are on LIVE.
Of course, it's pretty self explanatory, what Twitter will be like.  Just like the mircoblog's website, users will be able to update their tweets while, staying in touch seeing what their friends are tweeting.  Users will also be able to check out actual profiles, see the current trending topics, and search for anyone tweeting about a certain Xbox game. 
Last.fm is a service which offers people to search and discover all sorts of music.  The site then creates a personalized radio station based on what that listener likes.  Xbox gammers will be able to use this feature, allowing them to skip, "ban" or "love" tracks to create the perfect mix.  A pre-created station will be available with game related types of music and soundtracks. 
Although Zune isn't necessarily a social media site, it will be weaved onto the game console, offering HD video with 5.1 channel surround sound.  Another Zune feature worth noting is that Xbox users can share the experience with up to seven friends through voice chat and Avatar integration on the TV screen.
The Xbox 360 currently offers Netflixmovie rentals, and will soon offer a news headlines from around the world, hoping to expand and bring as much as possible to the gamming experience. "From the launch of Xbox LIVE nearly seven years ago, to milestones like Video Marketplace, Netflix and the New Xbox Experience, we've continued working toward our vision of connected entertainment for everyone," said Whitten. "I'm proud to say that next week marks another great stride in fulfilling that promise, and we're already imagining what the future has in store."
The future is expected to be bright, especially since Microsoft also announced in June the world's first controller free gaming system, Project Natal, or as some like to dub it, the Xbox720.  The console will be voice activated and hands free, where you, yourself are the controller.  Xbox released this video of the project on it's Project Natal YouTube page. 
Thursday morning, Sony leaked information out that the latest update of the PlayStation 3 will also offer a Facebook experience.  ScrawlFX.com found photo's of the PS3 & Facebook integration deep within Sony's website, however no other details have been announced by Sony at this time. 
Bringing social media to the gamming community could be a good thing and bring on more users, especially since Twitter's growth has recently slowed.  20 years ago, imagining something beyond Mario World was hard to believe.  Even just 5 years ago, thinking that you'd be able to use your gaming system to check your e-mail's and social networking sites didn't come to mind.  Seeing what the Project Natal has to offer, it's hard to imagine what will come after that, but boy will it be good.