By Kris Themstrup In Press Releases, Studies & Stats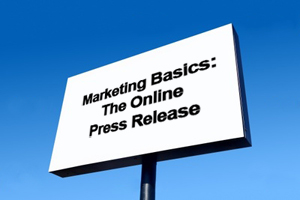 Think a press release is an outdated, "old media" approach to marketing? Think again.
There's countless studies and articles highlighting the benefits of a press release for online businesses. From generating traffic, inbound links and business or product buzz, to getting positive press and top billing on search results, the new online marketing standards certainly include press releases as a vital and important component for better exposure. But it isn't as simple as writing a release and sending it off; there are many factors when it comes to effectively using a press release to market your business. Here's some things to consider to ensure you're getting the most out of a press release and why you should have done one yesterday:

1. Good writing – it's in there.
Your press release is only as good as its content. Don't be fooled into thinking you can take a look at some samples online and put together a blockbuster press release for your business. There are industry experts for a reason; a well-written press release will draw more attention, generate more traffic, and put a professional shine on your business that will scream "do business with me!" Press releases can get rejected or find the trash very easily, so make sure your release will catch the readers interest quickly and meet all the industry standards, or don't expect much of a response.
2. Optimization is not an option.
Your press release must be optimized for search engines, news sites and online media. Not optimizing your release is like making a fantastic bottle of wine and super-gluing the cork in. Every online extension of your business should be optimized these days to get the best potential exposure, including your website, press release, business blog, articles, social media advertising and links. With optimization comes an easier road for your customers to find you, so swing that door wide open.
3. Distribute. Everywhere.
Distribution of your press release is just as important as content or optimization – once you've had the masterpiece created, it's time to unveil. Distribution is a numbers game; the more avenues of publication available to your release, the better chance of discovery, syndication and popularity. Again, don't fall victim to the "free press release" services – typically they'll only submit your release to a limited number of sources, stiffeling its potential to both engines and readers. Professional services are the best bet, reaching all major publications and opt-in freelance journalists through RSS, email and the like.
Stats for Press Releases:
The potential benefit from a well-done press releases is pretty incredible. It can build your brand, generate link popularity, increase company credibility and be a great source of immediate traffic and business, among other things. Let's look at some sample stats so we can get a snapshot of the potential effect this simple marketing practice can deliver (keep in mind that this is one experiment – results vary from market to market and depend on many variables).
Stats taken from marketingexperiments.com "Press Release Tested"
9 press releases issued over a period of time generated:
5442 direct visitors, an average of over 600 visitors per press release (distribution limited to a single state, and an average of 530 distribution editors per release).
A five-fold increase in the number of direct incoming links to the website, 1250 links to 12,500 links (over a six-month period).
14 interviews with media reps, resulting in additional traffic and links.
On average, traffic that was 38.9% less expensive than comparable traffic from a PPC campaign.
A CPC (cost per click) much lower than the relevant targeted keywords in Google.
In summary, this example shows the vast reach and benefit of online press releases, even when they're distributed on a small scale. Some of the professional press release services average 10,000-20,000 distribution points these days, so keep that in mind when viewing the numbers. The bottom line is that every piece of expert advice and research available online points to the fact that press releases are a valuable practice for an online business, and done correctly, can greatly increase multiple areas of exposure. The question is, have you done a press release for your business?
Here's more information on press release services for online businesses.