By Nyasha Jernigan In Social Media, Social Media News Brief, Social Networking, Web 2.0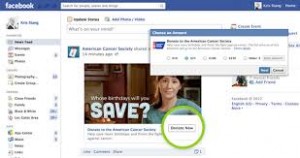 Facebook is striving to help nonprofit organizations by improving their previously adopted "Donate" button. For a while now this button has appeared on the home pages for various nonprofit organizations that are trying to raise money for their cause. Facebook recently decided to try expanding the use of the "Donate" button to allow organizations to add it to posts that would show up on the News Feed of Facebook. This is considered to be the latest way that Facebook is trying to connect its users with philanthropic efforts.
With the new and improved button, charitable organizations will be able to focus more specifically on individual campaigns rather than donations to their organizations in general. If an organization wants to have people donate to something more specific that they are doing, they will be able to make a post about it that will appear on the pages of the people who are friends with the organization on Facebook. People will be able to donate directly through their News Feeds by clicking the donate button and going through a short process to enter credit card information.
While this new tool is just starting to be tested, many people are already becoming concerned about how the tool will be used. Some people worry about the way that this kind of a tool can be used to collect credit card information and how this information might be used in the future. Others are more concerned with the way that less reputable charities might be able to encourage donations without Facebook users really doing research on the charities. The worry is that spontaneous donations via a Facebook News Feed may not really end up going to the charities that deserve them the most.
Right now, the feature is only in its test phase of development with 37 charities trying out the new feature while Facebook perfects it. Already three different charities have launched fundraisers using the new tool to help with their seasonal campaigns. People will be able to donate using the button and also share the fact that they donated with friends to encourage others to give as well. The success of these early campaigns will give Facebook a better idea of how well the tool works.