By Nyasha Jernigan In Social Bookmarking, Social Media, Social Media News Brief, Social Networking, Web 2.0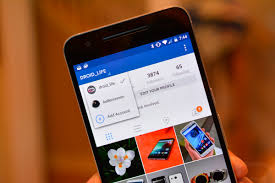 Instagram is fairly new to the social media world when compared to Facebook and Twitter, but its growing popularity with both businesses and individuals is causing some problems for those who need more than one account. Anyone possessing more than one Instagram account has to log out of one of the accounts just so that they can login to the other account. This can be a major complication for the posting process, making it so that many users have asked for some solution.
This doesn't sound like such a big problem if you don't have multiple accounts, but of course this is a complication for people who have Instagram accounts for work or for their business as well as personal accounts that they use with friends. You don't want the people who follow your business on Instagram to see all of those selfies or pictures of your cat, you want them to get posts that actually relate to your business and make sense for this particular account and what it is made for. Unfortunately, is easy to forget to log out of your work or business account before switching over to using the personal one.
Instagram has finally addressed this problem making it easier for business owners, or anyone with multiple accounts to move between the accounts without logging out. The social media site recently began testing a new feature on their app for Android users. This feature allows Instagram users with multiple accounts to easily switch between accounts, avoiding the hassle of signing in and out on the app. The app allows users easy access to all of their accounts so that they can pick which one they are using with the click of a button.
For many people, the new feature is a long awaited one allowing them to easily go from a work account to their personal account and back without ever having to worry about making the posts in the wrong account. The feature will be getting a lot of love from small business owners, photographers, and social media managers since it will make their lives and multiple accounts so much easier to manage. It is also great for individuals who might want multiple personal Instagram accounts that they can use for different types of pictures that they might be interested in sharing. In a world where social media is prevalent both for personal and business related pursuits, this is one feature that can help a great number of people.