By Kris Themstrup In Company News, Testimonials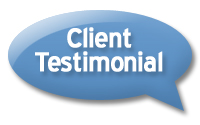 The iePlexus blog has taken our web site, www.emergencyanddisastersupplies.com from 7 keywords in the top 5, back in October of 2008, to 28 keywords in the top 5, now in June of 09. Content really is king. We thought we were doing well with posting our content on various article directories, but the iePlexus blog has helped us make even more good content available, out on the web, to our customers and potential customers.
Thanks,
Eric
www.emergencyanddisastersupplies.com
www.emergencysuppliesblog.com
Thank you, for your efforts and proactive support. I hope that the support that you have shown afforded me is an example of what I can expect fromm the rest of the iePlexus team. I look forward to a positive relationship with iePlexus, and trust the experience will
result in making COFFEE 2 TEA a success.
Kind regards,
Brian
I would like to thank you for your on going services. Everyone has been so nice, knowledgeable, friendly and all that good stuff that helps to make the overwhelming task of building your 1st website, plausible. Everyone has been most helpful.
Thanks again,
Jan
*NOTE: Please do not contact any clients without prior written authorization from iePlexus. Thank you.