By Jason Thurston In E-commerce Basics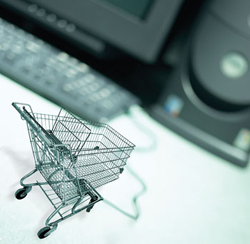 For many Americans it's about that time to start planning spring and summer getaways. A couple of years ago that may have meant a visit to the Eiffel Tower, a week-long road trip to the Grand Canyon, or a few days soaking up the sun on a beach in Mazatlan. But, those days of excess have come to a grinding halt as the economy has worsened, and layoffs have proliferated.
This year has been coined the year of the 'staycation.' People are spending less, and staying home more. A recent Allstate poll found that nearly half of all Americans plan to cut back on travel in 2009. An International SOS survey found that 4 out of 10 Americans are reducing their international trips, and, according to a Zagat study 20 percent less people will travel in 2009 than 2008.
That doesn't mean that people won't be using their two weeks of paid vacation. In fact, more and more people are taking their vacations – at home. And, there's good reason why they've decided to stay home. Even when gas prices are falling, airline fees are stagnant. In October, for example, airfares were up 10 percent. People could barely afford to fly a year ago, and this year it's no better.

In many ways a 'staycation' can be just as relaxing as a vacation. First, forget about having to deal with loathsome airport security, long lines, and cramped coach seating. Taking a vacation in your home allows you to check out sights that have been right under your nose all along. It's also an excuse to buy some new equipment for your home, or backyard in order to make your 'staycation' feel more like the real thing.
Retailers aren't at a total loss, except for those marketing airline tickets, fancy hotel rooms, and international travel. There are still many products people will need to plan their dream 'staycations.'
Lawn Furniture: People may not be willing to spend thousands of dollars on a fancy hotel for the week but that doesn't mean they won't invest in making their yards their own private havens: Picnic tables, hammocks, pools and pool supplies, and landscaping services will be in demand by those staying home this summer.
Food: Eating out is a mainstay in vacationing. Part of the fun of staying in a hotel is that you don't need to cook, and can have meals delivered to your room. Some people want to recreate this experience in their own homes. Just because they're not far away doesn't mean they won't appreciate delivered meals. Restaurants and small businesses alike can hop on the gravy train by offering meal packages, gift baskets, and grocery delivery.
Camping supplies: We all remember pitching a tent in our back yards some warm summer night. This year many American families will be camping out in the comfort of their back yards. They may not be paying for a permit but they'll still want outdoor gear like tents, lanterns, sleeping bags, bug spray, folding chairs, and tarps to make their 'vacation' more authentic.
Home entertainment equipment: In times of economic hardship home entertainment sales increase. Why? It seems pretty obvious that people who spend more time at home spend more on entertainment for their homes. Trading in their travels will prompt consumers to purchase Blu-Ray player, plasma-screen TVs, smartphones, and video game consoles. People still want these products because they can be enjoyed again and again.
Relaxation services: So what about the single people out there? Just because they're not paying for daycare, saving for college, or worrying how they'll afford little Timmy's braces, doesn't preclude them from being broke. In the past decade it was uncommon for people to be living within their means, singles included. This is all the more reason to market relaxation services for stay-at-home singles who can't afford a vacation, but are too self-indulgent to say 'no' to a little pampering. At-home massage, facials, waxing, grooming, Botox, and hairstyling will all be too tempting to refuse.