By Kyle Aevermann In Industry News, Social Media, Social Networking, Web 2.0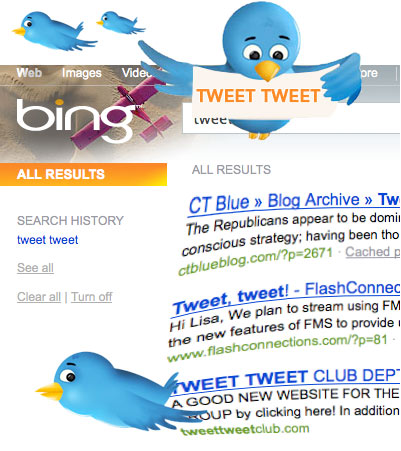 Qi Lu, Microsoft's Online Services President, announced at the Web 2.0 Summit today, that Microsoft's new engine, Bing, has stuck a non-exclusive deal with Twitter.  The deal is an important one because it will be the first search engine to bring in real-time updates.  It is also important because there have been reports that Google, Bing's biggest competitor, has been in talks with the social networking site, and hasn't been able to come up with a contract.  Many Internet users are saying that this is a "big-blow" for Google.
Twitter updates have been available for search on Bing for quite awhile now, but today will be the first time, Bing users will be able search keywords and watch real-time tweets from Bing's website.  Lu also said that this will open up many opportunities for future business deals among business's world wide.   
Even though the financial terms of the deal were not disclosed, the New York Times reported before the announcement, a source to Microsoft familiar with the details of the deal said it involved a payment from Microsoft to Twitter.
Twitter said on their blog that they want to make twitter a search tool to help find people what they need in current time.
Twitter is providing Bing access to the overwhelming deluge of public, real-time tweets rushing in from all around the world so they can help you find those that make the most sense right now. While Twitter currently presents tweets based simply on timeliness, Bing is experimenting with new solutions such as "best match." We hope more working relationships with organizations in the search business will mean even more variety for users.
 By the end of the day, Internet users will be able to look at real-time Tweets by visiting http://www.bing.com/twitter.
There were also rumors before the announcement that Facebook would also be worked into the deal.  Although Microsoft does acknowledge they are in talks with Facebook, no announcement was made.  If a deal is made before one is made with Google, it could generate a larger audience for both Bing and Facebook, which has nearly 40 million updates a day.