By Nyasha Jernigan In Industry News, Social Bookmarking, Social Media, Social Media News Brief, Social Networking, Web 2.0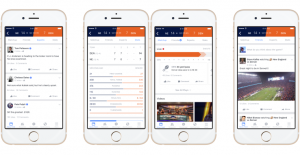 When it comes to social media, Twitter has always been the place that people go to if they want to watch their friends and the rest of the world react live to a sports game that is in progress. Twitter has made it easy for people to talk about sports and see tweets about the game just because of the way that it organizes tweets and displays them. No other social media outlet has found a way to challenge them. Until now. Facebook just launched Sports Stadium, a place where people will be able to keep track of game stats, current plays, friends' reactions, and even expert commentary.
Facebook's new Sports Stadium will be divided into four tabs so that people will be able to look at the specific information that they are most interested in. The first tab of the Hub shows the information about the game including the score, most recent play, and videos that relate to the game. The second tab shows what friends are posting about the game allowing users to engage in the conversation already in progress. The third tab shows expert commentary from different sports commentators and players. The final tab has statistics from the game.
All together the new Sports Stadium makes it so that Facebook users are able to engage in the game as they might not have previously been able to. The goal of this new Facebook feature is to allow friends to sit and watch a game together even when they are spread across the country. It allows people to connect over a sports game in a similar way that Twitter does. The feature is being launching for iPhone users this week ahead of the NFL playoff games. It will be available on computers as well before the Super Bowl.
The new feature is competitive with Twitter as it allows real time communication about sports. Users don't have to search for a specific hashtag as they might need to in the Twitter platform since Facebook has the game information already grouped and ready for them to begin looking at it right away. The feature is certain to benefit Facebook as it will draw more advertisers and commentators to the website as more users become interested in the feature.