In Testimonials | No comment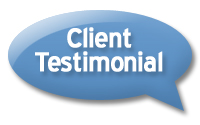 Hey iePlexus,
Just wanted to touch base with you and let you know how things are going. Last week we sold five fans, three of them were on one order! This week has been a little slower as we have only sold two, but I have been working with someone who's house burned down and is now rebuilding. She wants to put one of our fans in each of the bedrooms (4 total).
The real news for the week though is that we finally found the graphics to make a Hannah Montana fan. I just listed it on the website today and annouced its arrival on the blog. With the number of requests we have been receiving over the past couple of weeks for this, we expect it to sell really well. Keep your fingers crossed!!
Talk to you soon,
Sincerely,
Colleen
*NOTE: Please do not contact any clients without prior written authorization from iePlexus. Thank you.