In Social Bookmarking, Social Media, Social Networking, Web 2.0 | No comment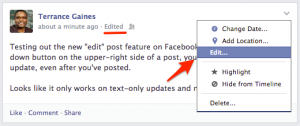 In a smart move, Facebook began to allow the editing of posts last September in the web browser and in the Android version of the social network's application. This was followed by a similar feature in the iOS application in October. It's surprising how long it took Facebook to allow users to edit their posts, considering what a hassle it once was to correct a typo or edit a post for whatever other reason you might need to edit it for.
Though Facebook allowed users to edit comments on posts for over a year before implementing this feature, it was a breath of fresh air to finally be able to correct typos in the text of a Facebook post itself. Previously, a user would have to delete the post, lose all the Likes and comments, and repost the status entirely in order to fix a typo.
The reason that it took so long for Facebook to allow for users to edit their posts was because they wanted to prevent Facebook users from abusing this feature. For instance, they didn't want someone to post something, wait until it got plenty of Likes, and then edit the post so that it looked like their Facebook friends had Liked something else entirely. The way that Facebook is getting around this is by offering an 'Edit history' to any post that is edited, so that users can see how the post has been changed.
Facebook is not the only social network that has allowed for recent editing functions. Vine also released an editing function in October, albeit one that operates a bit differently than the edit function on Facebook. Editing videos on Vine is referred to as 'Time Travel' and it allows users to reorganize different shots before posting videos on their Vine account, which will allow for many more interesting applications for the Vine social network.