In Social Bookmarking, Social Media, Social Networking, Web 2.0 | No comment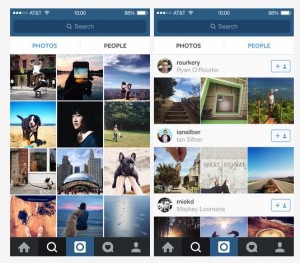 Like any other social media platform, it's important for Instagram to stay ahead of the game, especially with so many other image sharing social media apps competing for the number one spot. Thus, Instagram has been making a number of interesting changes over the course of the past few months, with many of these changes intended to give users more freedom over their Instagram accounts. Back in the summer, Instagram launched Hyperlapse, which was a separate time lapse app under the Instagram brand. Hyperlapse itself was updated to include a 'Selfielapse' mode in September, allowing users to do the same things with the front-facing camera.
More recently, Instagram made some changes to the actual Instagram app itself. One new addition to the application is the inclusion of a "People" Explore tab that can be used to discover interesting new Instagram accounts to follow. The tab is personalized based on who you follow and the things that you like on Instagram. Another well-received feature that Instagram has added recently would be the ability for users to edit image captions, which wasn't available until last week, despite it being one of the top requests from the Instagram community.
Not every change to Instagram has been received so positively, however. In particular, Instagram launched their first video advertisements this month. Ads are important for the monetization of major social networks, but many people believe that social networks are particularly affected by video advertisements in a negative way, as they can be distracting and obnoxious. Through the good and the bad, however, Instagram is proving that it is able to change and evolve just like any other social network.