In Industry News, Social Networking | No comment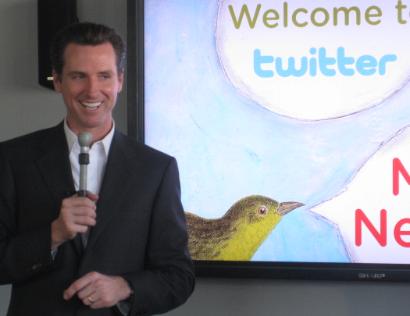 If you follow hot button political topics such as the legalization of gay marriage, it's very likely that you know the name Gavin Newsom. Serving as the mayor of San Francisco, Newsom gained notoriety in 2004 when he directed the city-county clerk to begin issuing marriage licenses to same sex couples. The move was a controversial political statement, which, despite being repealed by the Supreme Court of California, helped place Newsom on the larger political radar.
Newsom's time in office was also marked by a turbulent personal life. He not only admitted abuses of alcohol, but he also admitted an affair with the wife of his campaign manager (and personal friend).
Despite these personal difficulties, Newsom announced on April 21, 2009 that he was throwing his hat into the ring for the California governorship. And while no one was particularly surprised by the move—there were few to no attempts to hide his ambitions towards higher offices—people are abuzz about the method by which he announced this candidacy.
(more…)