In Social Bookmarking, Social Media, Social Media News Brief, Social Networking, Web 2.0 | No comment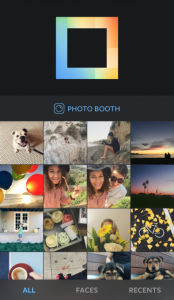 Instagram has recognized that its users are very interested in making collages. There are plenty of third-party apps that allow for this very function such as Pic Stitch, PhotoGrid, InstaCollage, and more. After recognizing that one in five monthly active users on Instagram had used one of these collage apps at least once, Instagram decided that they would launch their own collage-making application, hoping to make the experience easier and more efficient for their user base.
The app that they have launched is called Layout and it's trying to make an effort to separate itself from the herd of similar collage applications. While most of these third-party collage apps start out by offering empty grids where pictures can be arranged, Layout is different in that it has you choose the pictures that you will be using first, and then automatically arranges the photos for you, once you have selected a collage style. From there, it is easy to replace photos, resize them, or move them into different positions.
Many news sources are already comparing Layout to Hyperlapse, which quickly became the defining app for creating timelapse videos. From the way it looks, Layout could similarly become the definitive collage app, even amidst all of these other competing apps. Considering the success of Hyperlapse, it is likely that Layout will also have success, because of its direct affiliation with Instagram and its overall ease of use. The app launched for iOS on Monday and is expected to be released for Android in the coming months.