In Social Bookmarking, Social Media, Social Media News Brief, Social Networking, Web 2.0 | No comment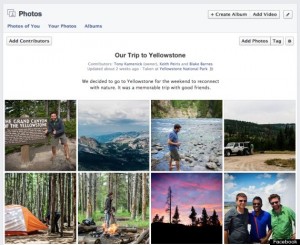 Though some may not realize it, the major social networks are constantly evolving, regularly pushing out new features and making tweaks and updates in order to stay relevant. Historically, when social networks cease to make an effort to keep upgrading, they get left in the dust by newer social networks that are willing to constantly try out new things. This might be part of the reason why Facebook wound up the 'winner' of the social networks when websites like MySpace and Friendster were unable to keep up.
Most recently, Facebook's newest update to its interface is the inclusion of shared photo albums that can be used by up to fifty people. These shared photo albums have been launched for the purpose of multiple people being able to add photos from an event or that share a common subject into one consolidated album. Each person that is allowed to contribute to the album is able to add up to two hundred of their own photos, meaning that a full shared photo album can reach ten thousand images.
Before the launch of the shared photo albums, users could previously only upload photos to albums that they had created and there was a limit of a thousand total images. The new shared albums also feature a few different privacy settings; they can be viewable by the public, by friends of the contributors to the album, or only by the contributors themselves, making an easy way for groups of friends to have their own shared private photo albums.
Facebook is not the first social network to delve into shared photo albums. Mobile apps like Albumatic and Flock based their platforms on group photo albums and will likely be hurt by Facebook's move into their territory. Google Plus also has long featured a similar function through its Party Mode, where users can share photos and videos in real time for guests of a certain event.