In Social Bookmarking, Social Media, Social Media News Brief, Social Networking, Web 2.0 | No comment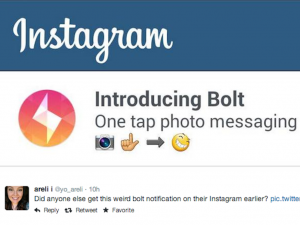 It wasn't very long ago that I mentioned that Facebook had launched Slingshot, their own answer to Snapchat (after previous failures such as Facebook Poke). The app hasn't been especially well-received and its confusing requirement that one cannot view a photo until they sling a photo back is the main reason people appear to be turned away from it, compared to Snapchat's simplicity. One of Facebook's famous subsidiaries, Instagram, has also launched their own individual attempt at creating a Snapchat competitor; this new application is known as Bolt.
Word first began to arrive about Bolt about a week ago, when some Instagram users began to report that there were dead links showing up in Instagram mentioning a free 'one tap photo messaging app' called Bolt. No comments were made until Bolt was officially unveiled a couple of days ago. What's odd about the launch of Bolt is that it's not available in the United States (at least not yet); it has only been launched thus far in New Zealand, Singapore, and South Africa. These countries were reportedly chosen due to their geographic diversity and tight-knit communities.
The primary difference between Bolt and the other massive amounts of applications that do the exact same thing appears to be that less taps on the touch-screen need to be made to perform the same thing. Perhaps the people behind Bolt are aiming for the simplicity route, like Yo, but social network commentators seem to be skeptical about whether or not that's different enough to be worth using when other existing applications that people are already familiar with have all of the same basic features.
The interface for Bolt is a little bit different, in that you can click on the picture of a contact rather than a username, like you would using Snapchat. However, other than this and the fact that it requires slightly fewer taps, it doesn't appear that there's much difference at all between Bolt and Snapchat (or the endless stream of other message, photo, and video sharing apps). According to Instagram, Bolt will soon be spreading to other countries; hopefully when it does, it will find a way to make itself better stand out from the existing herd.