In Social Bookmarking, Social Media, Social Media News Brief, Social Networking, Web 2.0 | No comment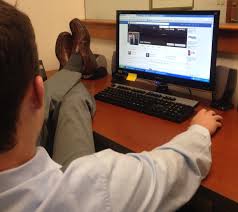 There have been reports appearing for a while that Facebook was working on an app that would more easily allow co-workers to communicate with one another. I talked about this briefly back in October. The rumors continued to be spread until yesterday, when Facebook finally officially unveiled their new application, known as Facebook At Work. Though it will first only be open to companies that have joined the program with Facebook, it will likely be rolled out more extensively later on.
The app allows co-workers to easily message one another, post in groups, and set up events and tasks. Some news sources believe that Facebook At Work will be making some serious waves and could change the face of corporations as we know it. Transforming the Facebook platform into a platform that can connect names with faces throughout a large company could help to keep growing corporations from feeling so inhuman. Smaller companies can suffice with other in-house messaging systems, but larger companies will truly benefit from a full-fledged social network for their company.
Facebook At Work will keep information separate from Facebook itself, and privacy settings will be treated differently, as bosses will have access to any information posted by anyone in the company. The intention is that Facebook At Work will remain professional, while still being able to bring together people in a larger company or corporation. A hurdle that some companies may have to overcome will be getting employees to view this version of Facebook as something that's pivotal to the company, rather than the time-waster and distraction it currently is for most employees.
Not to be left behind, LinkedIn appears to be launching their own products geared towards co-worker communication. One of these products is an update to LinkedIn's InMail service, which will allow co-workers to more easily contact one another. Another yet unnamed product is also being worked on, which will make it easier for administrators to send information to groups of employees.