In Social Bookmarking, Social Media, Social Networking, Web 2.0 | No comment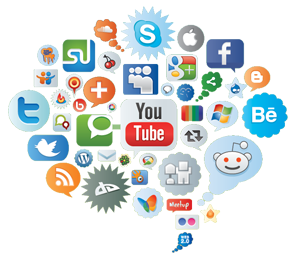 These days, many people find themselves with profiles on many different social networks: one person alone might have separate Facebook, Twitter, Snapchat, LinkedIn, and Instagram accounts, on top of plenty of others. As these social networks continue to grow, some app developers have been trying to find ways to make it easier to combine all the functions of these social networks into one consolidated application. This is something that has been handled in different ways, depending on the app.
Many of these apps work directly with existing social networks. For example, Snowball is an application that allows Android users to have a universal inbox for different messaging clients. This way, users are able to view all of their messages on one simple home screen. The app includes messages from Facebook Messenger, Twitter, WhatsApp, Snapchat, Google Hangouts, and more, as well as including basic text messages in the mix. Comparatively, on iOS, an application called Accounts has been launched, which is more of an attempt to create a universal address book. It pulls from Facebook, LinkedIn, Twitter, Reddit, and more and attempts to aggregate these accounts to make things easier for its user base.
Other new applications seek to enhance the features of your existing social media apps. For instance, Xpire is an app for iOS that's focused on the ephemerality of all of your social networks. It aims to allow your Facebook, Twitter, and Tumblr posts to effectively self-destruct in the same way that Snapchat automatically allows you to. This app also has other features, such as allowing users to determine how much inappropriate content appears on their Twitter account (which may lead users to want their tweets to be a bit more ephemeral).
Still others are trying to launch mobile apps that will work as replacements for other social media apps, by offering multiple features all in one. One notable instance of this would be Selphee, an app that has been billed as Snapchat, Instagram, and Vine combined. Even Selphee, which features all of these functions, still allows users to share photos and videos through existing social networks, however. Each new app appears to be one step closer to our social networks being nearly interchangeable and smoothly working together as cogs in a social media machine.