In Testimonials | No comment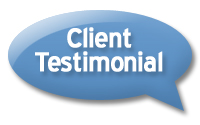 Just wanted to send a quick note to tell you how much we appreciate the attention we are getting to date. Excellent all the way around. We especially appreciate the very regular and timely communication. This tells us that you appreciate our sense of urgency and respect our business.
Thank you very much.
Regards,
Ryan, Donnie and Eric
*NOTE: Please do not contact any clients without prior written authorization from iePlexus. Thank you.