August 28, 2015 · Written by Andrew S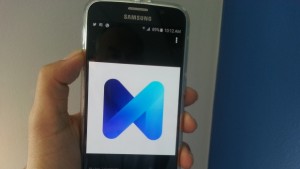 Last month, I spoke about a personal assistant that Facebook had been working on, at the time codenamed Moneypenny. It seems that the personal assistant's final name is a different James Bond reference, however, as Facebook announced the launch of M this week. There are a number of ways that M will differ from other personal assistant services like Siri and Cortana. Primarily, M will work as a fusion between artificial intelligence and human input. Effectively, this means that your requests to M, as supervised by a team of people, will be able to complete tasks on your behalf.
Though M is still in its early stages, Facebook believes that they will be able to create the ultimate personal digital assistant with its unique build. M will be able to purchase items for you, deliver gifts, book restaurants, make appointments and travel arrangements, and so much more. Another way that M is differentiating itself is by avoiding the voice-activation that can sometimes be a nuisance with services like Siri and Cortana. Instead, you'll ask questions via text and a real person, an AI, or some combination of the two depending on the task at hand, will respond to you.
M will be built into Messenger, so that you can easily communicate with your digital assistant without issue. There are many potential ways that M could be used that are getting people excited. With the combination of human and AI input, the possibilities are endless. There are likely to be plenty of business applications and ways that Facebook will be able to monetize M as well. Though M has not been fully rolled out yet, it has begun open testing with a select number of users in the Bay Area.
August 6, 2015 · Written by Andrew S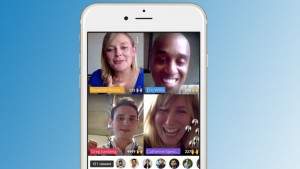 Live-streaming is something that I have discussed before. Applications like Periscope and Meerkat, which allow users to live-stream video on Twitter, are more popular than ever. Thus, it shouldn't be incredibly surprising that there are other groups that are interested in getting in on the live-streaming magic. A number of other applications and updates are being released that will allow live-streaming to become available to an even broader audience, with a variety of different nuances and options that make them stand out from their potential competitors.
It's probably least surprising that Facebook has decided to jump into the business of live-streaming, although they are handling it quite a bit differently than the options that have been available on Twitter. Facebook has added live-streaming as a feature called 'Live' to Facebook Mentions, which is the app that allows celebrities to connect with their fans. Thus, the live-streaming function is not available to all Facebook users and is instead only offered to those who have Facebook Mentions accounts. Anyone following these celebrities on Facebook is able to like, comment on, or share these live-streaming videos. The 'Live' product manager has stated that this feature may be rolled out to other users in the future, once the company has received feedback from public figures and viewers.
Another type of live-streaming has appeared that's more accessible for the average person. With Blab, a new app currently in beta, users sign in with their Twitter information and can join a live-streaming video chat of up to four people. Effectively, the app manages to operate as Meerkat or Periscope, only for groups of people. Users can watch the video chat and can mute any of the windows at their leisure. Blab is expected to make waves, in that it could be used for interviews, debates, and other purposes.
July 30, 2015 · Written by Andrew S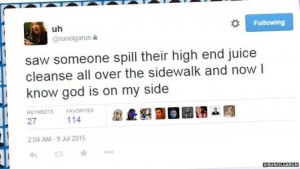 With its 140-character limit and far-reaching user base, it's no surprise that many comedians have utilized Twitter to share jokes, quips, and puns with their followers, helping to develop their brand, bring in new fans, and make people laugh. However, there are plenty of people out there who aren't particularly funny but still want to share jokes through Twitter, which is why uncredited joke thievery has become such a major problem on Twitter. It seems that finally Twitter is taking a stand against joke thieves.
Based on Twitter's copyright rules, the social network is now allowing users to report tweets as stolen. When this occurs, the company will treat the report just like any other copyright infringement requests (which were previously mostly limited to images and videos). After determining if the tweet has indeed been stolen, the tweet will be removed from the thief's page and marked as 'withheld in response to a report from the copyright holder'.
This seems to all be part of Twitter's recent decision to take a tougher stance against spam, abuse, and other problematic speech being shared on Twitter. Many of the joke thieves are spambots that simply repost things that are found on Twitter without credit. Of course, now that Twitter's stance on this is out in the open, there are many people testing the waters of Twitter's limits by tweeting out en masse the specific joke that was first recognized as an example of copyright infringement. It remains to be seen what will be done about things like this.
July 23, 2015 · Written by Andrew S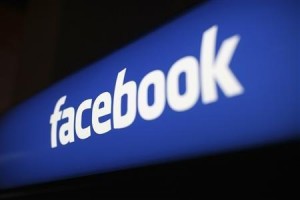 As I've said many times before, it's necessary and expected for social media to always be changing. That simply fits with the average attention span of the millennial generation and the overall user base of social media apps, who are always on the lookout for the next big thing. As the biggest social media platform, it's always going to be important for Facebook to keep up with the times in order to stay relevant in a realm that's always going to be introducing new types of competition from different angles. Currently, Facebook is working on a number of different major changes and ideas.
Businesses have been able to thrive with successful Facebook pages and Facebook's next hope is that their users will be able to buy things directly from a business's Facebook page, without even having to be redirected somewhere else. Facebook has been allowing users to connect their debit and credit cards to their accounts to make payments to other users for some time now. Apparently, the next step will be including a 'Buy' button for a number of retailers, which is something that they are currently working on testing. Another feature currently being tested is a 'Watch Later' button, which will allow users to save videos they find potentially interesting for later.
One of the most interesting recent developments is that Facebook is working on a personal assistant service that will be able to compete with Siri and Cortana. However, what separates their service – known as Moneypenny – from the others is that it won't be a virtual assistant. Instead of being powered by computers, the intention is that Moneypenny will have a real human on the other end at all times. Unlike the other things that Facebook is testing, it is likely that Moneypenny may be quite a bit further away from completion, but it's yet another interesting way that Facebook is trying to stay competitive.
July 9, 2015 · Written by Andrew S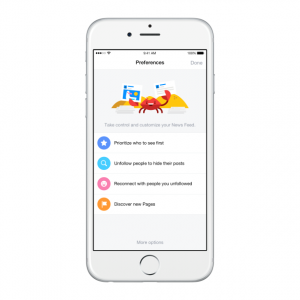 The newest way that Facebook has changed to provide users with a better experience is by making it easier to control what shows up in the News Feed. The updated version of the News Feed allows users to pick out which of their friends and acquaintances they'd like to see appear more in the News Feed. This feature will allow users to see all of the posts made by certain users. A Facebook user can select any number of their friends and no one but the initial user can see which friends have been chosen.
For a long time, Facebook's News Feed has mostly been presented as part of an 'algorithm' that determines which posts you wanted to see more of based on your likes and interactions on Facebook. However, the people behind Facebook have recognized that this algorithm is far from perfect, which is why giving users a bit more direct control over what appears in their News Feed was a positive step forward for making Facebook more appealing to its users.
The News Feed changes are accessible from the 'News Feed Preferences' section of the Facebook app. This section now allows users to prioritize who they see first, unfollow other users to hide their posts, reconnect with those that have been unfollowed, and discover new pages. Though the new features are currently only available on the iOS platform, they are expected to be rolled out to the desktop and Android versions of Facebook in the coming weeks.