April 23, 2015 · Written by Andrew S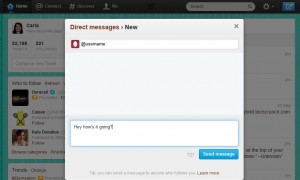 Though Twitter is not primarily known for its messaging services, there has always been the ability to Direct Message your friends via Twitter, essentially allowing you to send something in private rather than adding it to Twitter's usual public forum. In order to do this, however, you had to be following that person and they had to be following you. Presumably, this was to reduce the potential SPAM that could come along with fake accounts and advertisers who might try to send out mass Direct Messages to users willy-nilly. As of this week, Twitter is no longer requiring users to be connected in this way to send Direct Messages to one another.
The new feature is something that users can choose to opt into, in order to prevent Twitter users from opening themselves up to potential SPAM. This setting was actually rolled out to a handful of users back in 2013, but it's only become available as a widespread feature as of this week. This update is likely in an effort to compete with the messaging features of other apps and social networks, such as Snapchat and WhatsApp. Twitter believes that improvements to private messaging will create a social network experience that is more whole.
However, this update has not come without its criticism. Initial criticism came from an apparent mistake that made the feature opt-out instead of opt-in, although this was quickly fixed. Additionally, some believe that Direct Messages defeat the purpose of Twitter, considering the appeal of Twitter focuses on the fact that everything is part of a large, public conversation. Other criticisms believe that opening up one's Direct Messages will make it easier for people to wind up subject to abuse and harassment, a problem that Twitter has already been dealing with in spades.
April 16, 2015 · Written by Andrew S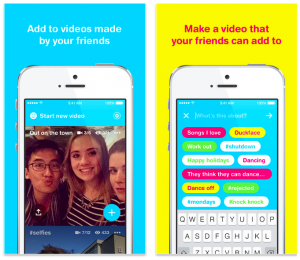 The rate at which Facebook seems to be constantly growing and changing is truly astounding. It seems that rarely a week goes by without a new feature being rolled out by the social network. Over the course of the past couple of months, Facebook has released a number of new and interesting features, as well as separate applications that are intended to perform specific functions. One way that Facebook changed things up recently, for instance, is by allowing people to use Facebook Groups to sell things, in a way similar to Craigslist, but with less anonymity.
Another interesting thing that Facebook can now be used for is serving divorce papers via Facebook messages. In this situation, it's not exactly a feature that was added by Facebook. It's actually been a court ruling, which allows people to serve legal paperwork such as divorce papers via Facebook, depending on the circumstances. Whether or not this can be considered legal would have to be decided on a state-by-state basis, but New York has confirmed that it can be done.
Outside of the Facebook platform itself, Facebook has been launching some interesting apps that allow users to perform different functions. Riff is an app that allows friends to create collaborative videos by adding clips together; the videos that are created can be easily shared through Facebook and the contributors will automatically be tagged. Another app that Facebook just launched is called Scrapbook, which is effectively a way for children under the age of thirteen to have a Facebook presence, allowing parents to tag photos of their children. Facebook is currently looking into ways to allow a child's Scrapbook to be upgraded to an official Facebook page once they turn thirteen.
April 9, 2015 · Written by Andrew S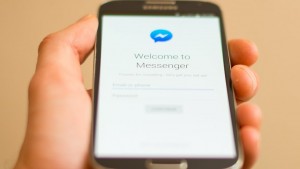 As I discussed last week, Facebook Messenger is going through some pretty big changes right now. With the addition of third-party support, Facebook is hoping to transform Facebook Messenger into its own platform. Yesterday, they extended this idea by launching Messenger.com, a dedicated web presence for Facebook Messenger, separating the messaging functions from the News Feed, notifications, and potentially other distracting information that usually might appear on Facebook.
Facebook users will still be able to send messages from Facebook.com as usual, but Messenger.com has been established as a chat website for those who may need to chat but don't want to wind up endlessly clicking on the distracting social media content that can often present itself on Facebook. Currently, the features on Messenger.com are still somewhat limited. Users cannot yet send audio messages or send photos directly from their webcams, but it is likely that Messenger.com will continue to expand.
It's also been confirmed that Messenger.com will allow users to interact via the third-party applications that were discussed last week. Though Messenger.com is only available to English-speaking users right now, Facebook plans to launch the platform internationally over the course of the next few weeks. Interestingly, Messenger.com does not presently feature any advertisements, but one can assume that this is likely to change in the future.
April 2, 2015 · Written by Andrew S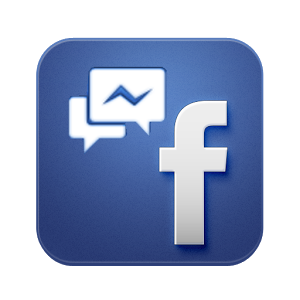 During the Facebook F8 conference last month, Facebook made a number of announcements about the future of Facebook and the ways that things will be changing throughout the year. One of the most interesting and buzzed about changes that apparently will occur is the fact that Facebook Messenger will now be able to support third-party apps and services, so that the Messenger service that Facebook has been developed can be customized in all sorts of different ways.
Facebook Messenger is used by more than 500 million people, so it's no surprise that Facebook has made it their goal to make Messenger more useful. By opening up Messenger to third-party app creators, the possibilities are limitless. Since Facebook recently allowed friend-to-friend payments to be made in Messenger, it's likely that there are a lot of interesting ways that Messenger can be expanded for commerce, with businesses potentially making it easier to purchase goods and services through their Messenger app.
The first third-party apps that have launched for Messenger have been simple sticker apps, as well as some small ones for audio and video clips. However, there are plenty of potential options for the future. People could send animated GIFs to their friends, have their messages sung out loud to them, play games, or make purchases all through the same Messenger app. Since the transformation is so recent, the sky is still the limit for what could come from Facebook Messenger's evolution into a full-fledged platform.
March 26, 2015 · Written by Andrew S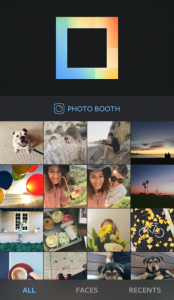 Instagram has recognized that its users are very interested in making collages. There are plenty of third-party apps that allow for this very function such as Pic Stitch, PhotoGrid, InstaCollage, and more. After recognizing that one in five monthly active users on Instagram had used one of these collage apps at least once, Instagram decided that they would launch their own collage-making application, hoping to make the experience easier and more efficient for their user base.
The app that they have launched is called Layout and it's trying to make an effort to separate itself from the herd of similar collage applications. While most of these third-party collage apps start out by offering empty grids where pictures can be arranged, Layout is different in that it has you choose the pictures that you will be using first, and then automatically arranges the photos for you, once you have selected a collage style. From there, it is easy to replace photos, resize them, or move them into different positions.
Many news sources are already comparing Layout to Hyperlapse, which quickly became the defining app for creating timelapse videos. From the way it looks, Layout could similarly become the definitive collage app, even amidst all of these other competing apps. Considering the success of Hyperlapse, it is likely that Layout will also have success, because of its direct affiliation with Instagram and its overall ease of use. The app launched for iOS on Monday and is expected to be released for Android in the coming months.