March 26, 2015 · Written by Andrew S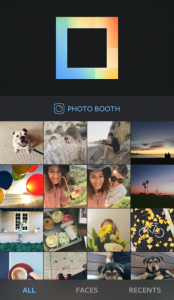 Instagram has recognized that its users are very interested in making collages. There are plenty of third-party apps that allow for this very function such as Pic Stitch, PhotoGrid, InstaCollage, and more. After recognizing that one in five monthly active users on Instagram had used one of these collage apps at least once, Instagram decided that they would launch their own collage-making application, hoping to make the experience easier and more efficient for their user base.
The app that they have launched is called Layout and it's trying to make an effort to separate itself from the herd of similar collage applications. While most of these third-party collage apps start out by offering empty grids where pictures can be arranged, Layout is different in that it has you choose the pictures that you will be using first, and then automatically arranges the photos for you, once you have selected a collage style. From there, it is easy to replace photos, resize them, or move them into different positions.
Many news sources are already comparing Layout to Hyperlapse, which quickly became the defining app for creating timelapse videos. From the way it looks, Layout could similarly become the definitive collage app, even amidst all of these other competing apps. Considering the success of Hyperlapse, it is likely that Layout will also have success, because of its direct affiliation with Instagram and its overall ease of use. The app launched for iOS on Monday and is expected to be released for Android in the coming months.
March 19, 2015 · Written by Andrew S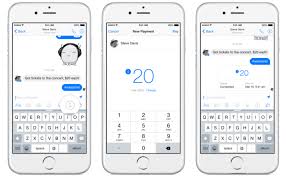 In various ways, Facebook has competed with most of the major online forces around. Their social media functions compete with Twitter and Snapchat; their search functions compete with Google and Bing; their ownership of Instagram even pits them against a number of other image and video sharing services. Now, it appears that Facebook is ready to go up against payment services such as PayPal, as they have just officially announced that Facebook Messenger is adding a friend-to-friend payment service that is free of charge.
Using this feature is fairly simple. A user simply needs to add their debit card information in Facebook Messenger's setting sections. Then, you select the '$' icon in Facebook Messenger and tap 'pay'. From there, any user can send any amount of money directly into their friend's bank account. Facebook has plenty of experience with transactions and mobile payments through their apps and games, so the security of one's debit card information won't have to be something to worry about.
Facebook's goal is to offer this feature as a convenience. They recognize that people are already going to be logging time on Facebook, so why should they have to spend time adding friends to another application like Venmo (an app running similar features, offered by PayPal) when they can already use their existing list of Facebook friends? Though it's too early to tell if this feature will be the death of other payment apps, Facebook certainly has the upper hand here.
March 12, 2015 · Written by Andrew S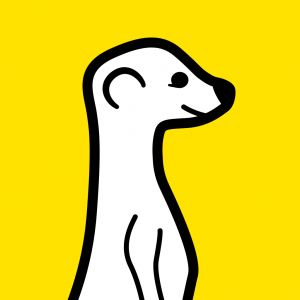 Over the past few years, live-streaming has become immensely popular. This is largely thanks to the popularity of Twitch, which is a live streaming video platform that initially focused on streaming video game playthroughs and e-sports, though its brand has continued to expand. Amazon's purchase of Twitch in September 2014 only helped to expand the brand's popularity. Thus, it's unsurprising that live-streaming has been on the brains of many people since Twitch's surge in viewership, which has turned it into one of the top 200 visited websites on the Internet.
A couple weeks ago, Meerkat was launched as a live-streaming video app that works directly in conjunction with Twitter. Though Meerkat is an independent app with no official connections to Twitter, it uses Twitter to allow people to live-stream video or record video to be scheduled for a later tweet. As Meerkat runs live-streaming video, other users are able to engage the user's Twitter account with replies, which appear at the bottom of the video feed. When the live-stream is completed, its default setting is to be ephemeral and disappear, although the streamer has the option of saving the video to their phone's memory.
In the weeks since its launch, Meerkat has become extremely popular, though only time will tell if it will merely be a passing fad or if it will reach the same level of popularity as Twitch. In any case, Twitter has reportedly been in talks to purchase another live-stream app known as Periscope. Periscope has not yet launched, but beta testers have described the app as similar to Meerkat. If Twitter purchases Periscope and launches it, they could potentially be burying Meerkat before it has a chance to truly shine. At any rate, it's definitely likely that live-streaming is going to be the next big thing for Twitter.
March 5, 2015 · Written by Andrew S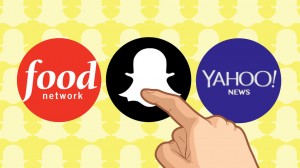 Like any social network, Snapchat is always trying to find new ways to expand and evolve. Recently, they added the ability for different brands to get content to interested users through Snapchat Discover. However, there have been other ways that Snapchat has been trying to appeal to their users, albeit with mixed results. Snapchat launched an ephemeral scripted web series through Snapchat Discover called Literally Can't Even, which is interesting in that episodes can only be watched for 24 hours before disappearing, but has premiered to largely negative reviews.
Better responses have been received from a different feature that was recently added to Snapchat. Last month, Snapchat began allowing users to record video while playing music from their phones, whether they're using Spotify, Pandora, or the phone's built-in MP3 player. Previously, Snapchat did not allow users to play music from apps like these at the same time as shooting video, so this may give users some additional versatility regarding the videos they share on Snapchat.
Not everything that Snapchat has been doing has been about adding new features. In fact, there were some negative reactions when Snapchat added the Snapchat Discover feature, because it came alongside the removal of the 'Best Friends' feature. This was a fairly minor feature that allowed users to view the top three users that one of their friends exchanged Snapchat messages with.
Many people, likely accustomed to the somewhat voyeuristic aspects of social networking, were displeased that this feature had been removed, considering it allowed users to see who their friends were messaging the most, on an otherwise private social media app. The CEO of Snapchat responded that the Best Friends feature will be returning in a different form, though there have been no updates about the feature since then.
February 26, 2015 · Written by Andrew S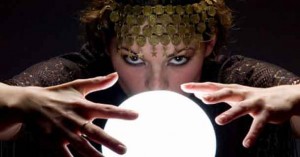 Occasionally, when you glance at the sidebar on Facebook, you might wonder how exactly it is that Facebook seems to know exactly how to cater to what you're interested in. What you might not know is that Facebook has algorithms intended to help find the ads that suit you best. Since mid-2014, Facebook began using app and website data from your browsing habits, effectively going through your search history in order to determine which ads to target to you. While Facebook provides the ability to opt out of this, the default setting allows this sort of ad targeting to occur.
More recently, Facebook revealed that they were rolling out a new advertisement option called Product Ads, which are dynamically optimized to ensure that the products you see in the advertisements are based specifically on your interests and activities, as well as your location and whether or not you have already visited the advertiser's website or used their application. These will be particularly useful for showing different types of products that come from the same company, such as Target and Shutterfly.
You may not realize how much information social networks can gather just from the things you have 'liked', the things you have posted and shared, and your general search history. One long-term study had subjects take personality tests and then used an algorithm based on their Facebook profile to see how closely their personality could be predicted alongside the test. The algorithm was able to produce a more accurate description of their personality than that subject's friends and family.
Facebook is not the only social network that has been used to predict things. One study took a look at the emotional language used on Twitter, comparing the amount of angry tweets to mortality rates for atherosclerotic heart disease in particular counties. The researchers in this study determined that Twitter was actually a more effective means of predicting heart disease than conventional methods that look at smoking, diet, or obesity. This is evidence that a lot can be learned from social networks and these sorts of studies could wind up serving greater purposes than just targeting advertisements.